Rex Wayne Tillerson (born March 23, 1952) is an American energy executive, civil engineer, and diplomat who is the 69th and current United States Secretary of State, serving since February 1, 2017. Tillerson joined ExxonMobil in 1975 and rose to serve as the chairman and chief executive officer (CEO) of the company from 2006 to 2016.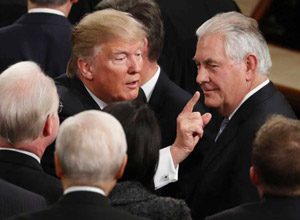 Tillerson began his career as an engineer and holds a bachelor's degree in civil engineering from the University of Texas at Austin. By 1989 he had become general manager of the Exxon USA central production division. In 1995, he became president of Exxon Yemen Inc. and Esso Exploration and Production Khorat Inc. In 2006, Tillerson was elected chairman and chief executive officer of Exxon, the world's 6th largest company by revenue. Tillerson retired from Exxon effective January 1, 2017, and was succeeded by Darren Woods. He is a member of the National Academy of Engineering.
Tillerson is a longtime volunteer with the Boy Scouts of America, and from 2010 to 2012 was their national president, its highest non-executive position.
He is a longtime contributor to Republican campaigns, although he did not donate to Donald Trump's presidential campaign. In 2014, Tillerson, who had made business deals on behalf of Exxon with Russian President Vladimir Putin, opposed the sanctions against Russia. He has previously been the director of the joint US-Russian oil company Exxon Neftegas.
Exxon
In 1998, he became a vice president of Exxon Ventures (CIS) and president of Exxon Neftegas Limited with responsibility for Exxon's holdings in Russia and the Caspian Sea. In 1999, with the merger of Exxon and Mobil, he was named executive vice president of ExxonMobil Development Company. In 2004, he became president and director of ExxonMobil. Upon this appointment Tillerson's replacement of Lee Raymond as CEO of Exxon Mobil was implicitly implied. His major competitor was Ed Galante, another Exxon executive. On January 1, 2006, Tillerson was elected chairman and chief executive officer (CEO), following the retirement of Lee Raymond.
In 2009, ExxonMobil acquired XTO Energy, a major natural gas producer, for $31 billion in stock. Michael Corkery of the Wall Street Journal wrote that "Tillerson's legacy rides on the XTO Deal."
On January 4, 2017, The Financial Times reported that Tillerson would cut his ExxonMobil ties if he became Secretary of State. Walter Shaub, the director of the United States Office of Government Ethics, said he was proud of the ethics agreement developed for Tillerson, who was now free of financial conflicts of interest. His ethics agreement serves as a sterling model for what we'd like to see with other nominees.
Ties with Russia
Tillerson has ties with President Vladimir Putin of Russia. They have been associates since Tillerson represented Exxon's interests in Russia during President Boris Yeltsin's tenure. John Hamre, the President and CEO of the Center for Strategic and International Studies, of which Tillerson is a board member, states that Tillerson has had more interactive time with Vladimir Putin than probably any other American, with the exception of Dr. Henry Kissinger.