A Chromebook is a laptop running the Linux-based Chrome OS as its operating system. The devices were originally designed to be used primarily while connected to the Internet, with most applications and data residing in the cloud. The original Chromebook was an example of a thin client. However, since its original release, G Suite (Gmail, Docs, Sheets and Slides) were rewritten to run in offline mode, and Android-based apps are being made available on Chromebooks, which makes the platform more general-purpose than a typical thin client.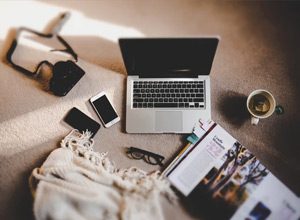 The first Chromebooks for sale, by Acer Inc. and Samsung, began shipping on June 15, 2011. In addition to laptop models, a desktop version, called a Chromebox, was introduced in May 2012, and an all-in-one device was introduced in January 2014, by LG Electronics.
Chromebooks are primarily sold both directly from Google and from the company's retail partners. By 2012, schools had become the largest category of customer. That October, Google broadened its marketing strategy to include first-time computer users and households.
In October 2012, Simon Phipps, writing in InfoWorld, said, The Chromebook line is probably the most successful Linux desktop/laptop computer we've seen to date. From January to November 2013, 1.76 million Chromebooks were sold in US business-to-business channels. ABI Research (and others) have shown them most popular in the US K–12 education market (and growing elsewhere, at least, in Western Europe) and anticipates Chromebooks to continue to dominate the education market in 2016.
At Google I/O 2016, it was announced that Android applications would be available to run on supported Chromebooks, via the Google Play Store; that will result in having two app stores in Chrome OS.
In my real-world use, which involves having a bunch of pretty heavy web apps open at all times and constant browsing, I didn't quite get to eight hours, but I got close.
The first two commercially available Chromebooks, the Samsung Series 5 and the Acer AC700, were unveiled on May 11, 2011, at the Google I/O developer conference. They were to begin selling through online channels, including Amazon and Best Buy in the United States, the United Kingdom, France, Germany, the Netherlands, Italy and Spain starting June 15, 2011; however, Acer's AC700 was not available until early July. The first machines sold for between $349 and $499, depending on the model.
Business and Education
Google also offered a monthly payment scheme for business and education customers at $28 and $20 per user, per month, respectively for a three-year contract, including replacements and upgrades. Verizon offers models equipped with 3G/4G LTE connectivity 100–200 MB of free wireless data per month, for two years.
Google's early marketing efforts relied primarily on hands-on experience: giving away Samsung machines to 10 Cr-48 pilot program participants along with the title Chromebook Guru and lending Chromebooks to passengers on some Virgin America flights.
It's my pick as the best Chromebook you can buy today, so long as you're willing to spend the extra money to get this beautiful screen and quality hardware.
At the end of September 2011, Google launched the Chrome Zone, a store within a store, inside the Currys and PC World superstore in London. The store had a Google-style look and feel with splashes of color all around the retail store front. The concept was later changed to a broader in-store Google shop, which has not expanded beyond the PC World on Tottenham Court Road.
In addition to these marketing strategies, Google Chrome has created several Chromebook minis that demonstrate the ease of use and simplicity of the devices in a comical manner. For example, when the question How do you back up a Chromebook is asked, it is implied to refer to data backup, but instead, shows two hands pushing a Chromebook back to the end of a table. This is followed by the statement, You don't have to back up a Chromebook, showing how all data is stored on the web.