Samuel Dale Brownback (born September 12, 1956) is an American politician currently serving as the 46th Governor of Kansas. A member of the Republican Party, Brownback was first elected to the U.S. House of Representatives during the Republican Revolution of 1994, representing Kansas's 2nd congressional district for a single term, before running in a 1996 special election for the Senate seat previously held by Bob Dole. He won that election, and two regular elections following, serving until 2011. He ran for president in 2008, but withdrew before the primaries began and endorsed eventual Republican nominee John McCain. He was elected Governor of Kansas in 2010 and took office in January 2011.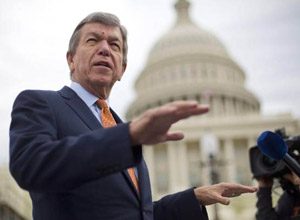 Brownback supported the 2007 Iraq War troop surge and has also voiced his support for Israel. He opposes same-sex marriage and describes himself as pro-life. As Governor, Brownback signed into law the largest income tax cut in Kansas' history, eliminating state income taxes for business profits realized as non-wage income.
Brownback turned down a $31.5 million grant from the U.S. Department of Health and Human Services to set up an insurance exchange as part of the federal health care reform law, signed a bill that blocked tax breaks for abortion providers, and banned sex-selection abortions.
Polls taken in September 2016 gave Brownback an approval rating of 23%, the lowest rating of all 50 governors in the United States. Brownback was reelected in a close race with a plurality, a margin of 3.7%.
Budget Deficit
The income tax cut generated a substantial budget deficit, affecting core government service, particularly in education, and led many former and current Republican officials to criticize his leadership in the run-up to the 2014 gubernatorial election and endorse his Democratic opponent, Paul Davis.
Brownback was a member of the Judiciary Committee, the Senate Appropriations Committee (where he chaired the Subcommittee on District of Columbia when the Republicans were in the majority), the Joint Economic Committee, and the Commission on Security and Cooperation in Europe, also known as the Helsinki Commission, which he at one time chaired.
Trafficking Victims Protection Act
In 2000, Brownback and Congressman Chris Smith led the effort to enact the Trafficking Victims Protection Act. President Clinton signed the legislation in October 2000. According to Christianity Today, the stronger enforcement increased the number of U.S. federal trafficking cases eightfold in the five years after enactment.
As of August 12, 2007, in the 110th Session of Congress, Brownback had missed 123 votes due to campaigning (39.7 percent) – surpassed only by Tim Johnson (D) of South Dakota who due to a critical illness had missed 100% of the votes of the 110th Session, and John McCain (R) of Arizona with 149 votes missed due to campaigning (48.1 percent).